As search engines improve their ability to interpret language, they also improve the quality of the results they can provide to users.
In this second joint whitepaper created by Searchmetrics alongside the content marketing and content seeding experts from Suxeedo, this report demonstrates how a thorough understanding of how text functions as a medium for communicating both meaning and emotion is highly relevant for content marketers. This analysis takes a scientific approach – drawing on different aspects of linguistics – and examines the similarities and differences in how humans and machines understand text.
The levels the whitepaper covers are as follows:
Level 1: Syntax – describing the structure for language
Level 2: Semantics – how text communicates meaning
Level 3: Pragmatics – the way emotions are communicated
The following questions can help you to assess your own linguistic optimization gaps and show you where potential lies: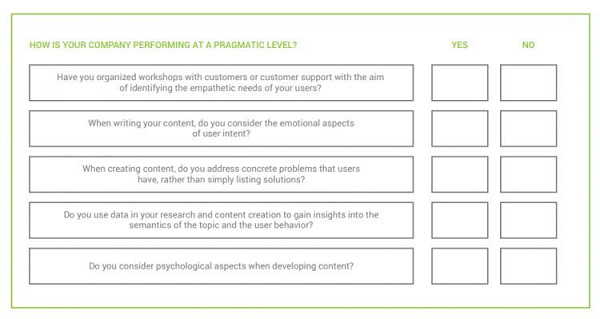 Scorecard:
For each "Yes" you receive one point, for each "No" you get zero points.
0-2 Points: Urgent need to optimize
3-4 Points: High potential for optimization
5 Points: Optimal user communication